About Us
Australian Indigenous Security Service Pty Ltd (AISS) is a provider of security services and training and has operated in North Queensland since 2001.
AISS has worked in remote communities across North Queensland from Woorabinda in the south to Bamaga in the north and west to Mornington Island.
AISS started as a sole trader in Bowen and incorporated in 2007 and has offices in Townsville, Bowen and Weipa. AISS currently employ 9 permanent 54 full time and 15 casual staff with more on our waiting list.
AISS work closely with North Queensland Bulk Ports, Adani Terminal Pty Ltd, Customs, Queensland Police Service, Xstrata Abbot Point Bulk Coal and Maritime Security Queensland.
Through our hard work and professional services AISS has grown from a small organisation in Bowen to having a state-wide presence.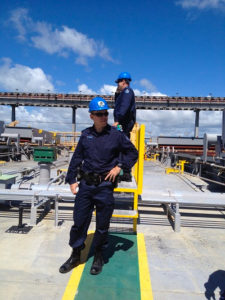 Organisational Structure
CEO: Len Morris
General Manager: Sue Mundey
Townsville Office Manager: Robin Morris
Bowen Office Area Manager: Sue Mundey
Weipa Office Supervisor: Livai Savuro
Accounts: Rachel Morris
Bowen Office Manager: Cheyenne Mundey
Patrols Supervisor: Garry Hockings
Project Supervisor: Seru Dakai
Project Supervisor: Brett McWaters
Project Supervisor: Rachael Larson
Project Supervisor: Gordon Stevens
Project Supervisor: Milton Kildey
Project Supervisor: Chris Meehan